Introducing the G Pen Gio!
Emerald Cup Debut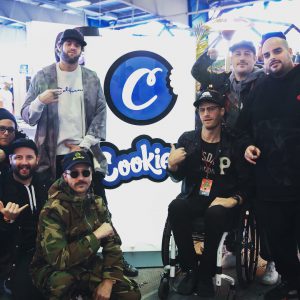 The G Pen Gio made it's debut this weekend at the Emerald Cup in Santa Rosa, CA and we could not be more excited! The Gio is an all-new portable concentrate solution from the makers of the Original G Pen. There have been little teases and previews of this little vaporizer for several months now, but now we get our first look and our first taste.
With the announcement their new product the Gio they also announced their latest collaboration with Berner SF Cookies line who debuted their latest drop, London Pound Cake. It's clear with this collaboration that G Pen was only interested in the best and most flavorful of strains for their oil pen. There also seem to be 2 versions of the Gio to look forward to, the blue and white Cookies edition and the traditional G Pen black. G Pen is no stranger to collaborations their work in the past includes a list of industry brands and celebrities such as Snoop Dogg, Wiz Khalifa, DGK, and Burton snowboards. I'm sure we are likely to see many different brands and collaborations with this device coming soon.
G Pen Gio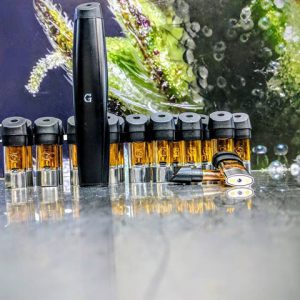 The Gio is a pod-based oil vaporizer where users can vape cartridges pre-filled with cannabis oil. It is a super portable vaporizer which is easily concealed in the clutch of your fist. To use the Gio just insert the pod and inhale making the operation of this vape as simple as can be. As far as the external design the Gio bares resemblance to the G Pen Elite, with its slick form factor and single LED "G" in the center of the device body.
We can assume that the device will be available and sold online from G Pen's website as well as any dispensaries that carry the pods.  The Pods will likely have to be purchased from exclusively local dispensaries considering they contain cannabis oil.
G Pen Gio Pods
Here is what we know so far; the G Pen Gio takes branded G Pen Gio pods that are to be used exclusively with the Gio battery base. We also know that the Gio will have a strong collaboration with SF Cookies and the Exotics line of strains and oils. So in addition to the newly released London Pound Cake, we will be able to expect flavors such as Girl Scout Cookies, Lemonade, Biscotti, Strawberry Shortcake, and Khalifa Kush as pictured to the left on Berner's Instagram Page.
There has been no official announcement when exactly the Gio battery base or the pods will be available to the public. However, I've been informed that there are plans to make pods available in all recreational legal states likely starting with California, Nevada, and Washington where Berner has larger distribution operations. Only time will tell.
G Pen Gio vs Pax Era
This is a very interesting matchup between two of the largest companies in portable vaporizers. The Pax Era has been out on the market for about a year now and they have collaborated with several different extract manufacturers to provide a variety of different strains for their user base to enjoy. Now available in all recreational legal states, CA, WA, CO, NV, and OR in various dispensaries make it fairly easy to add this as a regular piece of your 420 arsenals. While they have spread across states, into hundreds of dispensaries, and worked with many extractors to fill their pod's none of these extractors have a "bigger" name in the industry than Pax.
G Pen, on the other hand, has a strong following as a portable vaporizer company, in fact, many people commonly say "G Pen" when they refer to dab pens, like the way people commonly refer to gelatin as "Jello" regardless of what brand it actually is. With this big brand that they have, they also chose to partner with arguably the biggest brand in the cannabis industry with the Cookies line. The Cookies brand means many things to many people, it means some of the fines cannabis that money can buy, it represents the culture of a young outspoken generation, and it means that whether you know G Pen or you know Cookies you're going to want this vape and only this vape. It will be very interesting to see how far the reach of the G Pen Gio will actually extend as they come charging onto dispensary shelves to compete for your hard earned dollar.