Davinci IQ Review – Introduction
The DAVINCI IQ is the 3rd and latest release from Davinci Vaporizer makers of the Ascent and Davinci Vaporizers. The Davinci IQ is a portable battery operated dry herb vaporizer with precision temperature control. Davinci prides themselves on designing their products with 3 things in mind. Purity, Innovation, and Control. Let's see if that shows in their brand new vaporizer!     
First Impressions/ Unboxing
When you first see the Davinci IQ packaging you notice that it's not quite like any other vaporizer on the Shelf. The piercing bright orange sleeve of the box helps protect the deep purple box underneath. The box is sturdy with a light texture giving it a quality feel and the magnet lid that gives a nice snap to the open and close of the package.
The reveal of the Davinci IQ gives me a sense of gratification in my purchase as I get my first look of the IQ. The 51 light grid and the logo stand out to me and just makes me want to reach out and grab it. The device feels solid, no loose parts or little clicks when you shake it around. It gives you the impression of a quality device that is carefully designed. When you remove the IQ from its resting foam you'll notice a sticker and a pull tab for the battery on the back. The sticker gives you a 1,2,3 set of instructions on how to vape your very first bowl. As much as I want to give it the 5 clicks to get start it I reluctantly set it aside to charge while I inspect the remaining contents of the package.
What goodies lie inside this treasure chest? The first thing that I come across is an orange square user manual and a round sticker, a little boring. Next, I find 3 little boxes; one says "Carry Can", the other "Water Adapter/Extended Mouthpiece" and the final "Accessories". The Carry Can was pretty straightforward it is a small keychain sized can for you to carry extra herb around with you for your adventures. Each carry can comes color matched to your IQ. Pretty neat little giveaway. The Water Adapter/ Extended mouthpiece, this is for all you old Ascent users out there. Not only does this piece give you an actual straw to sip your vapor from making the inhale a lot easier for some, but the extended mouthpiece is also a 10mm ceramic male joint so it fit's into your favorite water pipes and rigs. The last box marked "Accessories" was exactly that, this contained out USB charging cord, another Davinci keychain which doubles as a tool and tamper, a cleaning brush, and an industry leading 9 alcohol wipes for cleaning.
New / Favorite Features
Like the Ascent before it, the Davinci IQ is a precision controlled vaporizer that gives you the ability to vaporize your herbs at different temperatures in order to achieve different healing effects. When vaping cannabis you will find lighter more cerebral and euphoric sensations at lower temperatures. At higher temperatures past 385°F, you will notice a deeper more full body sedating feeling. Think couch lock and captain crunch. For medical patients or the cannabis connoisseur, precision temperature allows the user to craft their vape experience. Medical patients will be able to vape at higher temperatures to release the for sedating effects for pain management. The recreational user can change flavors vaping at low temperatures releasing the terpene flavors slowly.
Smart Paths
In addition to precision temperature control, the Davinci IQ has a new feature called "Smart Paths". These Smart Paths are preset vaporizer sessions that take you through a range of temperatures through the duration of your session. You will select one of the four preset Smart Paths which will begin at a starting temperature and as you vape it will slowly boost, boost, boost up the temp so you continue to get a steady flow of vapor.  So for those of you who are are either not sure how to adjust your temperature when vaping or just simply don't want to deal with the hassle of it, the Smart Path gives you an easy route to enjoy a full body vape session to enjoy alone or with friends.
Davinci's Preset Smart Path Temperatures    
Smart Path 1 (350°F- 370°F)

Smart Path 2 (370°F- 390°F)

Smart Path 3 (390°F- 410°F)

Smart Path 4 (410°F- 430°F)
Bluetooth App
Like most consumer electronics it was only a matter of time before the world of apps found its way to portable vaporizers. Davinci brings innovation to their product line with the introduction of their Davinci App. It's worth noting that my favorite feature of the Davinci App is that the Davinci IQ is not dependant on the app at all. What I mean by that is you don't actually need the app to use the product. There are several vaporizers on the market that I feel have limited the features of their product and added an app to make up for that make of functionality. With the IQ you can change your temperature, select a smart path, dim and brighten your display, engage boost mode, and check your battery life all using the 3 buttons on the IQ itself.
Now that being said, what the heck does this App do? The app has a dashboard that allows you view your vaporizer statistics in real time. Kind of like an EKG for your vape keep an eye on that draw and pulse. It also allows you to quickly toggle your brightness on/off, as well as your vibration feature. There is also a fantastic information hub that Davinci has made available. Here you will find tutorial videos on how to use and clean your vape as well as temperature guides on how to vape your favorite buds.
The most interesting feature to me would undoubtedly be the ability to adjust your Smart Path settings. This is really interesting because what it does is make a very simple feature a little more complicated. For you vape enthusiasts that are always messing with your temperatures, trying to turn into the perfect settings to match your favorite strains, this is the feature for you. You will be able to set your path's with as steep or even of a path that you like. You simply pick a starting temperature, a middle temperature, and an end and the app will take care of the math for you and run your custom path. After that, your new Path will be saved onto your IQ's hardware. So next time you want that path it is already on your IQ ready and waiting, no app needed.  
First Bowl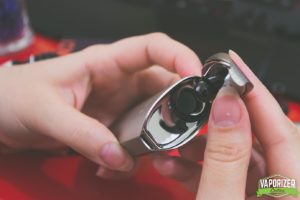 Enough with the fancy stuff let's get down to business and start vaping. Loading the bowl was very easy. To load the Davinci IQ stand it on its head with the oven end facing up. The oven lid opens to reveal a metallic loading hopper and the white ceramic oven. Load in your herbs onto the herb hopper and push them down into the ceramic oven. Make sure to load enough herb that the bowl is full and tamp down but not so much that you cannot draw air through the vaporizer.
To turn the IQ on give the "Control" button 5 clicks and you're ready to go. Right out of the box the IQ comes preset to Smart Path 3, one would assume the makers at Davinci wanted you to use this setting first to get a good feel of what you can expect from the IQ. So let's get to it shall we? The IQ took about 30secs to reach temp at Smart Path 3 which begins at 390°F and slowly increases to 410°F through the vape session. First draw, cool vapor, full flavor, and a huge cloud. The IQ really gives you all it's got in this setting, hit after hit you get flavor like you've never had out of a conduction portable and the vapor production is something to be admired. The IQ has an automatic shut-off of 10miniutes and so runs the duration of the Smart Path.
I empty out the oven to take a look at my buds. I found a tiny bit of green herb at the top where the "pearl" is but the remainder of the bowl was an even coffee brown color indicating that all of the terpenes and cannabinoids available had been vaped out. When using dry herb vaporizers this is what you are looking for at the end of your session. If you see black burnt herbs or even worse ash. You are not actually using a vaporizer but rather an electric smoking device. The Davinci IQ is a true portable dry herb vaporizer.   
First Week with DaVinci IQ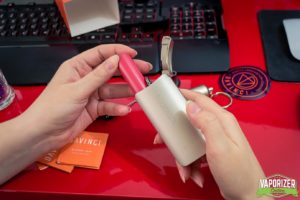 After putting in some real time with the Davinci IQ it becomes clear that this is a vape built for a heavy daily user. The oven is decently large allowing you to vape up to a half gram of ground buds. Davinci does have glass spacers that you can buy that cut the oven size down by 25% and 50% but that is a personal preference. The USB charging makes it easy to plug in anywhere and get some juice going. A lot of vapes come with fancy chargers that only work for their product, so it can kind of limit the "portability" of your portable vaporizer if you're low on battery and don't happen to have that charger. Aside from having USB charging but the battery is also removable. For anyone who really is on the road with their vape a lot or if you're heading out for a weekend camp you can carry an extra battery or two and swap them out as you go. The IQ is powered by a 20A 18650 battery. These batteries are super common in the vaporizer world with the largest box mod style e-cigs, portable dry herb vaporizers like the Ascent, Pax, and others, and they are even used in electric cars such as a Prius or Tesla. If you are going to be using the IQ often and switching out the batteries it's worth getting an external charger for your batteries as USB chargers can only charge so quickly. In fact, I never once could not use the IQ during this first week as a cause from the battery because I happen to have spares from other vapes available to use already.
I've used a plethora of vapes that have precision temp. They are all hit and miss in different ways and give you a different experience depending on how good their manufacturers' settings are and the bowl material. The compact cylinder-shaped bowl of the IQ and the even heating ceramic make controlling temp very effective. That being said Smart Paths are essentially the only temperature feature I use with the IQ. Having the temperature swing already calibrated in the Path just makes things so easy. Like a nerd I played with all of the different settings vaping fulls bowls only using 1 setting at a time to understand the differences in the paths and even messing with the custom settings. After playing with it all week I found my Ideal settings for vaping top-shelf buds.  I have it set to start at 360°F so the vape releases all of the light citrus tone terpenes first giving you an incredible flavor. From there it will slowly rise to 380°F over 6 full minutes, each hit is only 2 or 3 degrees warmer than the last but the vapor flows fuller and fuller with each hit. Finally, the Vape jumps from 380°F to a Roasting 395°F  at this point I'm usually coughing and reaching for a glass of ice water, but if you can hang with it you will have the best full body high that you ever had from a dry herb vape.
The Davinci IQ has a hidden little feature that is kind of interesting. They call it a flavor chamber. First and foremost it is the air path of the IQ where your vapor travels from your oven up to your mouthpiece to be inhaled. It is easily removable for cleaning but that is not all. You can actually store extra herbs in the flavor chamber to enhance both the flavor of your vapor and the potency of your buds. When you vape your vapor travels over the buds in the chamber pulling flavor from the fresh buds. In addition, the vapor leaves a gooey resin on the buds rather than all over your air path. You can then take the bud from the chamber and put it in your oven for a more potent bowl!
First Cleaning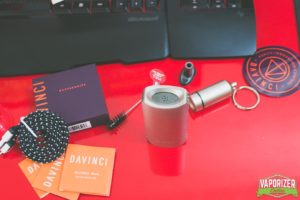 Cleaning the Davinci IQ is a little bit of a production. There are a couple of little accessories that you will need to remove for cleaning and a couple of nooks and crannies that will need a swab. The mouthpiece, the flavor chamber, and their gaskets all remove to be cleaned with a quick wipe down or a soak in a small dish of alcohol. The oven to avoid staining should be emptied after every session while the herbs and the bowl are still hot. While your mouthpiece and flavor chamber are soaking you can take a q-tip dipped in alcohol and swab out the oven cleaning out an excess residue or junk left behind. The one tricky area of the IQ to clean is the area under the flavor chamber. There is a small gasket that needs to be cleaned both on top and underneath. The best way I found was to take the provided alcohol wipes and brush and wrap the wipe around the brush to push down into the area and scrub it clean. After a good scrub, rinse and replace the mouthpiece and flavor chamber and you are good to go for another week of vaping fun.
The Verdict
Backed by a 10-year warranty and a replaceable battery it's easy to see how you could have this vape for a long time. With most vaporizers, it is the battery that fails, causing the warranty process with the replaceable battery you won't have that issue and you will only need a warranty to maintain your oven.  
The Davinci IQ is an innovative product that gives great vapor to the user. It is a smart little device that is full of features and surprises that can make it very unique to the individual using it. Will all of its flash, bells, and whistles it is also as easy to use as 5 clicks on and 5 clicks off with the addition of Smart Paths that take out the guesswork work of the experience. Whether you are a seasoned vaporizer user or someone who is looking to find a discreet and sophisticated way to consume your cannabis the Davinci IQ is the vape for you.