Pax Era Review – First Impressions
Pax Labs and the line of products that hold their name have often been referred to as the "Apple of Vaporizers". It is easy to see how so many can make that presumption when they take a look and see the similarities between the two brands. Like Apple, Pax has a very simple and elegant packaging style, groundbreaking marketing that sets them apart from their competition, and a dedication to tech and design with all of their Products. The Pax Era is their newest presentation of just that.
Right out of the Apple esque packaging you notice the quality and care that was put into the product. Much like unboxing a smartphone I find myself giddy with excitement. The package includes just the Pax Era unit and a USB charger for the battery base. The battery base packs 240mah of power and Bluetooth connectivity to pair with the Pax app…. But we'll come back to that part later. Its long rectangular shape seemed as though it might have been awkward to hold or handle but I find quite the opposite. It's sleek, slim, and simple in its design fits perfectly in your hands and between your fingers. From the packaging to the battery base, and down to the Pods there is a ringing sense of care quality and design that was put into each item.
Pods
The Pax Era is a "Pod" based oil vaporizer. Which means that the battery base of the Pax Era fit's special Pax Era Pod's that are pre-filled with Cannabis oil of different strains available from your favorite Cannabis brands. The Pax Era currently only available for purchase in the States of California, Colorado, Nevada, Oregon, and Washington which have all passed recreational marijuana laws.
In these various states and regions, Pax has partnered with local manufacturers of Cannabis oil that pre-fill these Pods to have available at select dispensaries. Some of the notable brands include The Lab Colorado, Bloom Farms, Matrix NV, Guild Extracts, Legion of Bloom, and Blue Coast Farms. Each pod is filled with 0.5g of terpene rich cannabis oil. While this may not sound like much it should deliver between 300-500 puffs depending on the length of the inhale. The Pods come in 4 strain types; Sativa, Indica, Hybrid, and CBD giving users a variety of effects and flavors to choose from.
First Session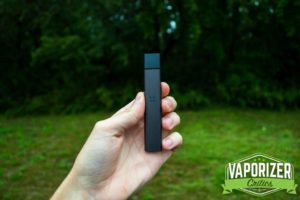 Getting started with the Era is pretty simple. You simply insert the pod into the battery base. Once in place, the LED "X" on the front of the Era will flash white indicating the Pod and battery are connected and ready to use. DK is based out of Las Vegas, NV and was able to acquire a Matrix NV Pax Era pod to test this out with for the first session. Because we didn't want the session to be influenced by either a Sativa or Indica experience I picked up a Hybrid pod for these first sessions. The Matrix NV hybrid pod is filled with their Gorilla Glue #4 cannabis oil which is also one of my favorite strains.
You can check your charge level on the battery by shaking the Era back and forth. Like it's big brother the Pax the four pedals on the front of the Era will illuminate indicating the battery level from 1-4. The Battery Base also has different wattage settings that will allow the pod to vape your oils at different temperatures. You can change the temperature using either the Pax app or there is a little Morse code like procedure that you can use to change the settings. To toggle the settings you first shake the Era to display the battery, then you remove the pod which will illuminate the LED's on the front of the Era and rotate in a clockwise motion. When the lights illuminate your desired setting re-insert the pod and the Era will flash your chosen setting.  
Era Device: Temperature Settings+
Fahrenheit: Low: 520, Med-Low: 610, Med-High: 700, High: 790
Celcius: Low: 270ºC, Med-Low: 320, Med-High: 370, High: 420
First inhale……. "Dude! Are you serious?". First words that come from my mouth as I exhale the vapor. Inhale again……"Duuuuuude". Inhale again…. Ok that's enough lol. I kind of can't believe the flavor from this vape. In my experience with Cannabis oil vapes there is always a certain flavor that I get when using them. Sometimes it's a strange burning flavor that is likely from the wick and coil of the cartridge, other times it is the flavor of the solvents used to make the oil. There is none of that present here with the Pax Era. It's likely that to make sure not to tarnish the quality that Pax customers are used to getting from their products that Pax holds a very strict standard to both the solvents used in the oil making process but also the quality of the Cannabis that is used in the first place to make it. From their selection of extractors is it clear that they chose partners who are known for providing quality buds and extracts on a mass scale to meet demand.  
First Week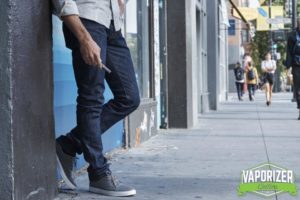 This little guy is dangerous, or at least it is for someone like me hahaha. I took this thing absolutely everywhere. I used it in a movie theater granted I was the only person in the viewing lol. I took it all up and down the Las Vegas strip quick little hits as I ducked in and out of shops, restaurants, and casinos. I used it at home, I used it at the office, I used it at the store, I used it gym (yes I'm that shameless), I used it at the bank, I used it in a box, I used it with a fox, I used it here and there, I'll use it anywhere, I do like the Pax era Sam-I-am. All jokes aside you can take this thing anywhere.
After a week of use, I went through 2 whole pods and got started on my third. For those of you who are counting that is 600-1000 puffs. Most consumers would hear that and it would be considered an extreme amount of usage. Some might say that I have a problem. I would say if you don't live a life that allows you to do whatever you want as much as you want then you're the one with the problem my guy. I did need to charge it twice, I found that I got about halfway through each pod before needing to do so. I can imagine with users that aren't as indulgent as I am may find they only need to charge once a week. Charge time is very quick usually is done in less than an hour.  
The App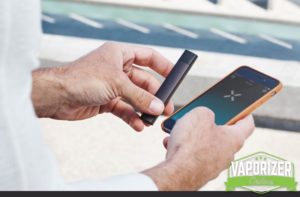 Like the Pax3 the Pax Era is equipped with Bluetooth connectivity to access the all-new Pax app. The app has very minimal impact on the Era as it is not really necessary to use the app for any of its main functions. Those main functions being, battery indicator, and turning on when you inhale. However, the app does bring you some interesting features and some that are maybe not so necessary. Temp control, this is one of those unnecessary features, there isn't a great deal in variations in the effect from the cannabis oil with adjusting the temperature.The only thing that temp variation does with Cannabis oil is effect the vapor to flavor ratio. Hotter means more vapor less flavor, cooler means more flavorless vapor, pretty simple. Next is brightness adjustment. The Era only has 4 small LED pedals on the front that don't really cast that much light to be needing a brightness adjustment. Also, the device is small enough that you could just cover it with your finger as you hit it but oh well, you have to make that app do something I guess.
The only features of the App connectivity and the Era that I enjoyed was first the Child lock and second their games. The child lock is a very interesting and innovative feature. The Pax Era activates with a simple inhale, if you are a parent and use this device to medicate with this is very important to you. Chances are that your children will see you duck off to puff every now and again. Monkey see Monkey do when it comes to the case of children. Every little kid wants to be a grown up like Mom and Dad even if it's not good for them. The child lock ensures that little Thomas won't become Tommy Chong until he's in college. The Last feature being the games. While it might seem childish and unnecessary I've always admired and appreciated the games included with the Pax2, Pax3, and now the Era. My favorite is a new game that they have called PAXspin. Similar to spin the bottle you place the Pax Era in the middle of you and your friends. The LED pedals will rotate round and round and stop on one, the person sitting closest to the pedal can now take the Era and have a hit. Fun fun fun hahaha.
First Cleaning
I took off the empty pod from the battery. I walked over to the trash can. I threw away the old pod. I inserted a new pod into the battery. The End.
Verdict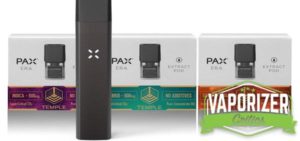 A very welcome alternative to cannabis oil cartridges. The Majority of oil cartridges that I find at my local dispensaries are all mass produced cheap carts that are sourced from questionable manufacturers. I can't tell you how many times I've bought a cartridge and the coil burnt out on me before the oil was all finished. With both of the pods we finished we found consistent flavor and vapor until the pod was empty.  
The Era is Simple in its operation and cleaning. It is Sleek in its function and portability. Most of all it is Smart with its app connectivity and it's design. I would recommend the Era to literally anyone and everyone who would like to consume cannabis oil on a regular, semi-regular, or even occasional basis. It will keep for long periods of time, holds a good charge, and delivers delicious potent vapor. Really no reason not to like this little device.